Are you ready to live a financially independent abundant life?  Are you looking to work your own schedule, in a field that growing like CRAZY.  Are you ready to live a life filled with purpose, one that helps make a positive difference in people's lives?
Wouldn't it be great to have the ability to spend more time with your family, doing the things in life that matter most to you!
Imagine now that you are your own boss – calling your own shots – and deciding what level of income you want, rather than waiting for some corporation or company to give you a raise or promotion.
Have you ever felt like there's more to life than the one you're currently living?  DOES your current life match up to the one you ENVISION for yourself?
My Story
A few years ago, I could honestly say "NO", I was not living the life I had envisioned.
As a matter of fact I was just going through the motions.  I did feel lucky.  After all, I was a stay-at-home Mom with two beautiful children, a caring husband, and a solid home, but I was living a life that had little direction.  And although my days were jammed packed with activities and things to do…mainly centered around my family… always underneath was this desire to do something more.  I love my kids and was trying to be the best mom I could, but I always felt like I was spinning my wheels. I would often think:
What happens when the kids graduate high school…what will I do then?  
The peppermint bottle that changed everything…
It was around this time that some good friends of ours mentioned using Peppermint Essential Oil for a nasty headache I would get from time-to-time.  I had tried essential oils before in the form of a Lavender pillow spray, which did actually helped me sleep.  However I was still a bit skeptical about the efficacy of these oils.
I reluctantly tried it anyway and WHOA BABY – did it ever work!  I put a dab behind each ear and on my temples and…two minutes later…my headache was gone.  I mean, absolutely no trace of it!
I remember thinking at that point:
Hey Megan, maybe there's something to this!
Lucky for me, our friends were dōTERRA Wellness Advocates and had been sharing these oils with friends and family for some time.  They had experience with a bunch of natural remedies and had so many positive stories to share.  The best part was, it seemed to me they were having a good time doing it and…making good residual income in the process.
At that point, I wanted to find out more about these oils and the company they represented.
I can do this!
The more I looked into it, the more I found ways these simple oils could help in everyday life.  With nearly 50 oils, dozen of blends and tons of health-related products – there is seriously "an oil for that"… meaning:  there's an essential oil or product that can address nearly any health-related concern.
I mean, like it or not – everyone has some kind of health related issue, whether it be allergies, skin issues, colds, flu – and people want to feel good.  And they don't want to always rely on prescription or OTC medication to fell better.   I wanted to be that person to help point them in the right direction…toward a safe and effective natural solution.
Why couldn't I make a business from that?
I could feel myself becoming more and more motivated.  I was also starting to see my path – my mission in life – form in front of me.
A Great Company
As I was doing my research, I was relieved to discover that dōTERRA wasn't just some faceless corporation.  They have a heart and soul that runs deep to the very core of who they are.  Rather than talking about charity and giving back, dōTERRA has actually incorporated it into their business model (what a tremendous idea!) with their Co-Impact Sourcing Initiative and Helping Hands programs.
It's through these programs where they directly support – build up –  the growers and distillers, these communities that make their oils.
Check out this inspirational video on their Co-Impact work with Wintergreen farmers in Nepal:
I have to admit, the good that their doing tugged at my heart strings.
Huge Potential
Perhaps the best part about working with dōTERRA is their business earning potential.  They understand that the advocates aren't just salespeople.  They are their business.  That's why their compensation plans and ways to earn are so rewarding and so a-typical of any other natural health company out there.  On top of that:
dōTERRA Wellness Advocates enjoy a 68 percent retention rate!  Compared that to a direct selling industry average near 10 percent and you've got built-in success.
With their CPTG (Certified Pure Therapeutic Grade® )certification, dōTERRA offers the highest quality standards of any oils on the market
Advocates huge discounts on the oils – making it easy to know your product!
Their seriously-generous compensation plan is one that fosters team work.  You can't be great without a great team.  That's why the dōTERRA payment equation encourages building a strong team for support.  You'll get that support when you join (more to come on that…)
The Essential Oil market is growing, with huge growth potential.
The market growth for Essential Oils is especially true in the United States where Natural Health awareness is just starting to pick up steam.  Check out the projected growth rate of some of the top selling essential oils.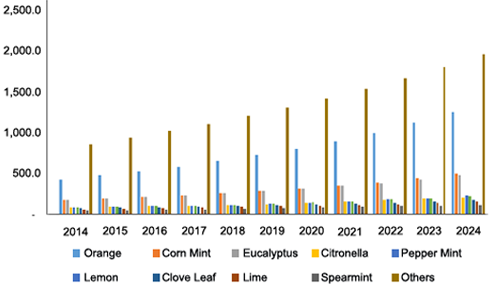 This is no "flash-in-the-pan" product.  This is a movement.
Literally EVERYONE will be using essential oils soon.  You should be that person to introduce them.
Fast forward to today
So where are we at today?   I am here at home, working every day in a job I own and love.  Working with a team that is one of the fastest growing in dōTERRA.  We've got our mortgage paid off every month and my husband is on track to quit his full-time job to help with our natural health business.
I am loving what I do and for the first time in my life I feel like I have a purpose – a reason – an underlying motivation to get out the word and work for the benefit of, not only myself, but of the people I know that can truly benefit from what essential oils have to offer.
I am finally living my dream.
Join me
Why should you join my team?
For one:  I am on one of the (if not the fastest) growing teams in dōTERRA.  Which means a tremendous foundation of support to help you personally grow your business.
I will be there to walk you through every step of the way
This is one of those things where any effort you put out is going to be matched with equal support in return.  You're not going at this alone.  You'll have the support of myself and all of folks that support me so generously
We'll set you up with a private Facebook support group called "The Tribe" among others sites, and I will make the time, however long it is, to ensure your on the path to success.
Do it!  Go all-in and you will be surprised at the results.
Let's Do This!
I'm am so excited for you. You are in the process of changing your life!
All you need to do now is fill out the form below and I'll be in touch with you within 48 hours.  Also, if you have a time or day preference, or a mode (i.e. Phone, E-mail) that you prefer, please state that as well.
Thanks and looking forward in talking with you…
Megan